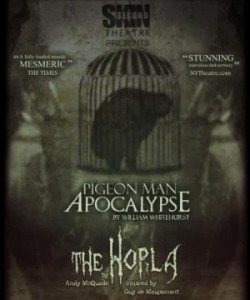 July 3rd – July 14th
Two terrifying and entrancing tales of madness, dislocation, abuse -and the occasional roast pigeon.
—
The Horla', inspired by Guy De Maupassant and readapted by Andy McQuade, tells the haunting story of one woman's battle with betrayal and a demonic creature that threatens her life and sanity. Starring Maud Madlyn as 'Isabelle', this is Theatre Associate Director Liyu's debut directing project with Second Skin Theatre.
—
William Whitehurst's acclaimed 'Pigeon Man Apocalypse' which played to sold-out and enthralled theatres across the US, tells the tale of Arthur Cork, a disturbed boy who inhabits a warehouse with only pigeons for company… and sustenance… and with a horrific story to be told.
New York-based actor -and Second Skin Theatre Principal Actor, Mark Binet brings the thriller to life, directed by Fringe Report 'Best Director, 2012' Andy McQuade -who originally performed the show in 2005.
CAST: Mark Binet & Maud Madlyn
Location: White Rabbit Theatre, 125 Stoke Newington Church Street, N16 0UH
Remaining shows:
Sunday 7th – 7.30pm
Wed 10th-Sunday 14th 7.30pm
Price: £10
Tickets Website: http://secondskin.eventbrite.co.uk/
More information: marketing@secondskintheatre.com