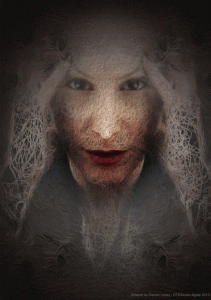 May 29th – June 23rd
The world premiere of acclaimed playwright Rob Johnston's electric and scathing reworking of Wilde's masterpiece of narcissism and the thirst for power.
London, 2005,  Dorian Gray -power-broker, banker, beautiful and loveless -has been given the inside information on the deal-of-deals, one to make him more powerful and more dangerous than ever.
But his portrait tells the real story and it hangs for all to see as one by one those closest to him pay the price for his lust for power and immortality.
–
Winner of the Kings Cross Award For New Writing, 2011, Johnston has been hailed by critics across the UK for his original and uncompromising voice.
–
This will be Second Skin Theatre's second collaboration with Rob and features three of Second Skin Theatre's resident actors, including Game of Thrones star Laura Pradelska.
CAST: Eloise Black, George Collie, Toby Liszt, Laura Pradelska
Location: White Rabbit Theatre, 125 Stoke Newington Church Street, N16 0UH
See ticketing website for specific performance dates and times
Price: £12 General Admission, £10 Seniors and Students.
Tickets Website: http://apictureofdoriangray.eventbrite.co.uk/ 
More information: marketing@secondskintheatre.com