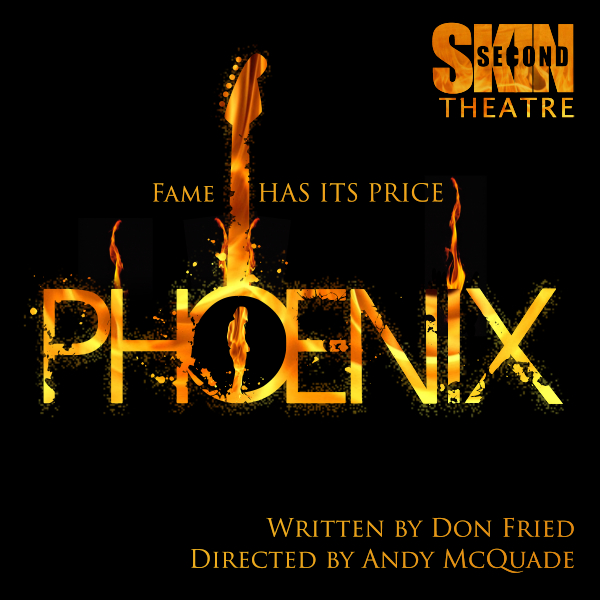 At the
in the West End of London
February 10 – 28, 2015
-
Phoenix is a fictional story, inspired by events in the life, death and rise to fame after death of tragic 70s singer/songwriter Nick Drake.
Forty years after his mysterious death, singer/songwriter Alan Phoenix has become a hero to millions. A young journalist, obsessed with learning the real story behind Phoenix's tragic life and death because it mirrors that of her brother, finds that the people who knew Phoenix have wildly differing memories of the same events. 
Director Andy McQuade, winner of Fringe Report's 2012 award for Best Theatre Director and Artistic Director of Second Skin Theatre, commissioned international award-winning playwright Don Fried to write Phoenix.
"I've wanted to do a play inspired by Nick Drake's story for 20 years," says McQuade. "Not a bio-play, but something original and dramatic, which would invoke the kind of emotions I have when I listen to Drake's music or read about his life. Nick Drake has been referred to – without any hint of sarcasm – as the 'patron saint of depression.' Certainly for me, during my own battle with depression, his music was a balm and offered a haven. Alan's own story reflects this aspect beautifully and with great care."
Says playwright Fried, "In 2010, Andy was directing my historical comedy, Shakespeare Inc. He handed me Drake's biography and within half an hour, three things had become clear. First, the events in Nick's life weren't dramatic enough to base a play on. Second, he'd become a hero to millions of people, but since so little is known about him, everybody'd made up their own heroes, and they were all different."
"Third, and this is the big one," adds Fried, "even the people who knew Drake when he was alive tell wildly different accounts of the same events. I realized immediately, that was the story!"
Development of Phoenix has taken place on both sides of the Atlantic, with McQuade and Fried meeting half a dozen times in London and New York; workshop and staged readings in London, Denver and Austin, Texas; and a highly successful tryout in Los Angeles. Fried, who is also a screenwriter, recently completed a screen adaptation of Phoenix; the screenplay treatment was selected as a finalist in the Euroscript Screenwriting Competition.
Original songs for Phoenix are by successful Hollywood songwriting duo Aurah, whose music has been featured in 13 movies and over 60 TV programs. Says McQuade, "Aurah's challenge – and they've succeeded beautifully – has been to create ethereal and beautiful music which casts a respectful nod at the music of Nick Drake yet retains its own unique identity belonging to the central character of Alan Phoenix."