Simon McCoy plays starring role in Second Skin Theatre's The Christmas Dinner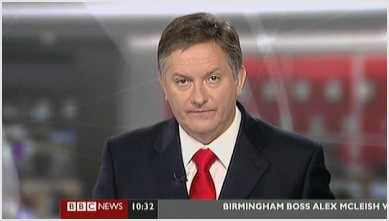 BBC Newsreader Simon McCoy is destined for a life on the stage. Or at least his voice is. Second Skin Theatre's latest production The Christmas Dinner features segments of newscasts recorded by McCoy detailing current episodes of starvation and poverty in London.
Written by Stoke Newington local Duncan Stevens and devised by "N16's resident theatre company" (N16 Magazine), this dark Christmas comedy plays at the White Rabbit Theatre from November 28 to December 16.
A lavish Christmas dinner party thrown by four wealthy and wholly despicable Stoke Newington residents is thrown into turmoil by the arrival of a poltergeist. However, as the night unfolds the true horror reveals itself to be something much closer to themselves.
Artistic Director Andy McQuade (Best Director 2012 – Fringe Report) explores themes of terror in isolation and the unknown, in a society that leaves its forgotten poor to haunt the privileged few. All news reports included in the production are quoted from recent mainstream publications and media sources.
"We are struggling to cope with the scale of this silent epidemic of hunger. More than 60 per cent of the 2,000 children we help every week tell us there is no food at home and 85 per cent rely on us for their main meal of the day. What I am seeing shocks even me. One child told me that he and his brother were so hungry they stole frozen meat from a flat they visited — and they ate it raw."

Camila Batmanghelidjh, founder and chief executive of Kids Company. The Evening Standard, London, 2012.
"Forty-three hospital patients starved to death last year and 111 died of thirst while being treated on [hospital] wards"
The Telegraph, London, 2012
"A newly married couple forced to live on £57 a week killed themselves in despair after being 'abandoned' by social services "
The Daily Mail, London, 2011
Second Skin Theatre's The Christmas Dinner by Duncan Stevens plays from November 28 to December 16 (no show December 1 & 7) at the White Rabbit Theatre, 125 Stoke Newington Church Street, N16 0UH. Wednesday to Sunday evenings at 7:30pm. Advance tickets: £10/£8 at ticketweb.co.uk